EM-1001 / 1002 Environmental Control Management
| | |
| --- | --- |
| EM-1001 | EM-1002 |
| | |

EM-1001 / 1002 consolidates the integrated sensors and devices.
Up to 16 x Control box can be connected by daisy chain for IP remote access.
We offer two control management models with same integrated sensor and device I/O.

---
Key Benefits:
>> Variety of Sensors / Peripherals
Getting instant notification of various environmental fluctuations, we offers a variety of environmental sensors.
>> Integrated PDUs / Fan Units
In order to enhance the functionality, the remote management supports the integration to intelligent Switched / Monitored PDUs and Fan Units. Up to 1920 x kWh PDU and same quantity of Fan Units can be remotely managed by the management software.
---
>> Scalable Flexibility
Multi ports for some critical sensors / peripherals / devices on control box are available. Users can apply "One Box One Cabinet" in order to achieve the optimum environmental management, or "One Box Two Cabinets" for cost effcient setup.
>> High Density fo Environmental Management
The free management software IGM-03 support up to 30 x IP. Up to 16 x control box can be connected by daisy chain and remotely access by one single IP. Under "One Box Two Cabinets" scenario, environmental remote management up to 960 cabinets can be achieved.
EM-1001
( Master Box )
EM-1002
( Slave Box )
Daisy Chain
SNMP
LAN Port
Daisy Chain Port - LINK
Daisy Chain Port - OUT
Dual Power Input Option
Temperature LED
1st Level
✔
✔
χ
✔
✔
✔
2nd - 16th Level
via Master Box
χ
✔
✔
✔
✔
Temp-Humid Sensor
Door Sensor
Smoke / Shock Sensor
LED Light Bar
Alarm Board
LED Flashing Beacon
Water Sensor
Integrated PDU
Integrated Fan Unit
2
2
2
4
2
1
1
4 ( daisy chain )
4 ( daisy chain )
2
2
2
4
2
1
1
4 ( daisy chain )
4 ( daisy chain )
Product Dimension ( W x D x H )
Net Weight
Power Consumption
Operating Temperature
Storage Temperature
Relative Humidity
Mounting
Safety Regulatory
Environmental
400 x 135 x 39.7 mm / 15.7 x 5.3 x 1.6 inch
1.06 kgs / 2.3 lbs
Auto-sensing 100 to 240VAC, 50 / 60Hz, Max. 48 Watt
0 to 55ºC Degree
-5 to 60ºC Degree
5~90%, non-condensing
1U Rackmount
FCC & CE certified
RoHS2 & Reach compliant
Download Management Software
IGM-03 ( for Master / Slave box )
IP Setup Utilities ( for Master box )
Daisy Chain Group: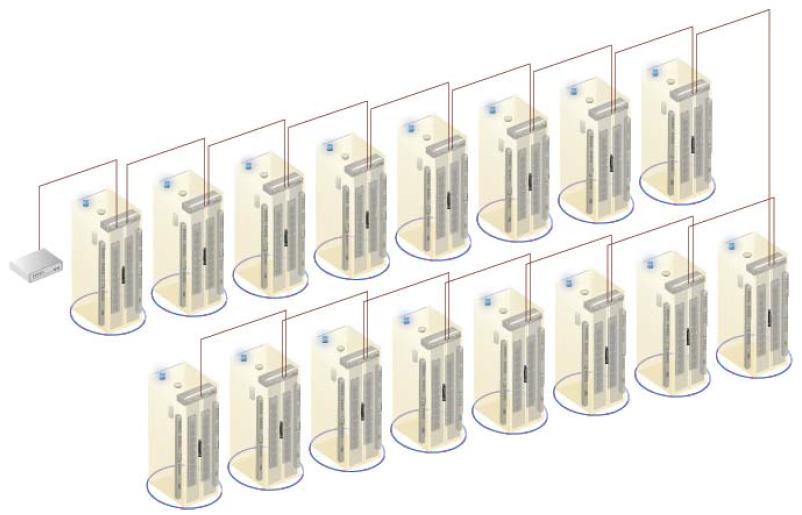 EM-1001 as the 1st level master box
The EM-1002 can be cascaded up to 16 levels
Only 1 x IP for 16 x EM-1002 remote access
Daisy chain by Cat5/6 cable
Max. distance between 2 boxes is 20M
Max. distance in a daisy chain group up to 300M

Software supports 30 x IP address, 480 x boxes, 1920 x Integrated kWh PDU, 1920 x Integrated Cooling Fan Unit, Thousands of Environmental Sensors
Remote access by web-based GUI from anywhere around the world
To maintain an optimum operation conditions in data center, getting instant notification of various environmental fluctuations is vital. We offer a wide range of sensors for a complete environmantal monitoring, including temperature, humidity, smoke, shock, water leakage and cabinet access. Peripherals such as LED light bar and flashing LED beacon, are designed for use with the sensors in order to allow a local environmental monitoring.
One sensor for temperature & humidity
Low profile and light weight design with a magnetic base for easy affixing to cabinet
Detection for temperature
Low profile and light weight design with a magnetic base for easy affixing to cabinet
Fluid leakage detection
5M rope round the cabinet bottom to detect any fluid flowing to the cabinet area
IP65 cable joint connectors provided

EMS-102-2 with 2M cord
EMS-102-4 with 4M cord

EMS-101-2 with 2M cord
EMS-101-4 with 4M cord

EMS-401-3 with 3M cord
---
Safely operated smoke detection
Alert the physical vibration on the cabinet
Highly visible for alerting user to alarm status

EMS-201-1 with 1M cord
EMS-201-3 with 3M cord

EMS-301-1 with 1M cord
EMS-301-3 with 3M cord

EMS-602-1 with 1M cord
EMS-602-3 with 3M cord
---
Light weight, mini size & adhesive
No custom cutting required on doors
Easy for existing cabinet retrofit or integration to new cabinet
Low cost
Precise
Cost efficient integration to new cabinet
Custom cutting required on door
Auto ON / OFF by door sensor detection
Manual ON / OFF by software remote
Magnetic base for easy affixing to cabinet
Dimension ( W x D x H ) : 20 x 300 x 12 mm

EMS-502-2 with 2M cord
EMS-502-4 with 4M cord

EMS-501-2 with 2M cord
EMS-501-4 with 4M cord

EMS-601-2 with 2M cord
EMS-601-3 with 3M cord
---
More Photos, click on the following for enlarged view:










---
Part Number
Description
EM-1001
Price : $520
Control box, Master
EM-1002
Price : $320
Control box, Slave
Environmental Sensors
-EMS-102-2
Price : $76
Add Temperature + humidity 2-in-1 sensor + 2m cord
-EMS-102-4
Price : $88
Add Temperature + humidity 2-in-1 sensor + 4m cord
-EMS-101-2
Price : $40
Add Temperature sensor + 2m cord
-EMS-101-4
Price : $52
Add Temperature sensor + 4m cord
-EMS-201-1
Price : $117
Add Smoke detector + 1m cord
-EMS-201-3
Price : $128
Add Smoke detector + 3m cord
-EMS-301-1
Price : $100
Add Shock sensor + 1m cord
-EMS-301-3
Price : $112
Add Shock sensor + 3m cord
-EMS-401-3
Price : $340
Add 5m rope-type water sensor + IP68 cable joint + 3m Cat6 cable
Door Sensors
-EMS-501-2
Price : $24
Add Mechanical Door Switch + 2m cord, pair
-EMS-501-4
Price : $48
Add Mechanical Door Switch + 4m cord, pair
-EMS-502-2
Price : $64
Add Adhesive Inductive Sensor + 2m cord, pair
-EMS-502-4
Price : $80
Add Adhesive Inductive Sensor + 4m cord, pair
LED Light Bar
-EMS-601-2
Price : $64
Add LED Light Bar, magnetic base + 2m cord
-EMS-601-3
Price : $80
Add LED Light Bar, magnetic base + 3m cord
Beacon
-EMS-602-1
Price : $100
Add Flashing LED Beacon + 1m cord
-EMS-602-3
Price : $112
Add Flashing LED Beacon + 3m cord