---
For more picture, click on the following for enlarged view: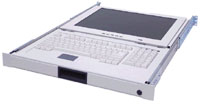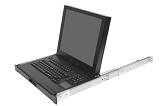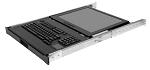 ---

Features :
-One rack unit high (1.75").
- Choice of black or light gray color.
- Display securely held in closed position.
- TFT surface protected by unbreakable shield.
- 15" active matrix TFT LCD display.
- Wide viewing angle, high brightness and contrast ratio.
- Front panel options include blank, lock and/or retainer.
- Display automatically powers off when in closed position.
- Attaches to a standard VGA card with provided signal cable.
- 26" ball bearing slides with adjustable extensions included.

Description :
The LCD1U15-09 features a choice of 15" TFT display, keyboard, and pointing device (touchpad or trackball) integrated into one rack unit (1.75"). The display is a TFT active matrix LCD which offers a wide viewing angle, and has high brightness and contrast ratios. The display does not require special proprietary LCD peripheral cards or drivers. It connects directly to a standard VGA connector and automatically switches to the corresponding VGA mode. A Lexan shield provides protection of the LCD screen from foreign materials. During operation, the unit can be withdrawn from the rack to raise the display and then pushed back half way into the rack to minimize space usage.
Specification
Dimensions
19.0" (W) x 1.75" (H) x 25.75" (D)
Color
Black OR Light Gray
Environment
Temperature
Operating: 0 to 50 degrees C
Storage: -20 to 60 degrees C
Humidity
Operating: 10% to 85% non-condensing

DISPLAY SPECIFICATIONS

Display Type
Active matrix TFT LCD, 16.7 million colors.
Resolution
1024 x 768 maximum
Frequency
Horizontal: 31.5 to 80 KHz
Vertical: 56 to 75 Hz
Response Time
25 ms typical.
Brightness
250 cd/m2 typical.
Contrast Ratio
400:1 typical.
Viewing Angle
Horizontal: 130 degrees
Vertical: 100 degrees
Input Signal
Video: Analog RGB
Sync: H/V Separate (TTL) sync-on-green, composite
Video Connector
Signal: 15-pin mini D-sub, detachable
On-Screen Controls
Brightness, Contrast, Position (Vert. & Horiz.), Auto Adjust, OSD Horiz. & Vert. position, Load and Save values.
Power
AC Input
90-260VAC
Frequency
50/60 Hz
Power Consumption
60 Watts Maximum
Plug & Play
DDC1 and DDC2B

KEYBOARD SPECIFICATIONS

KB Connector
PS/2
Keys
Rollover
Alpha N-key rollover
Auto Repeat
Yes
Self Diagnostics
At power on and system reset
Data Buffer
All codes buffered before sending
Operating Voltage
+5 VDC +/- 5%
Operating Current
200mA
KVM Use :
Only KB version w/ Cherry Keyboard & touchpad can be used with KVM (part # "cp" )

MOUSE SPECIFICATIONS

Mouse
Interface: PS/2 mini-din connector.
Buttons: Left and Right buttons. Also supports tapping function on pad surface for "Left" mouse clicks.
Operating System: DOS, Windows 3.x, Windows 95/98, Windows 2K, Windows NT, XP.

OPTION

Interface connector : PS/2 OR USB
Lock / Retainer / Composite & S-Video Input/ Touch screen
---
Ordering information :
Part #
Description
LCD1U15-09b-cp
Price:$966
1U Rack-mount 15" LCD Monitor Keyboard Drawer with Cherry keyboard & touchpad mouse in PS2 interface, black
LCD1U15-09g-cp
Price:$966
1U Rack-mount 15" LCD Monitor Keyboard Drawer with Cherry keyboard & touchpad mouse in PS2 interface,
light gray
LCD1U15-09b-sp
Price:$783
1U Rack-mount 15" LCD Monitor Keyboard Drawer with Solidtek keyboard & touchpad mouse, in PS2 interface
black
LCD1U15-09g-sp
Price:$783
1U Rack-mount 15" LCD Monitor Keyboard Drawer with Solidtek keyboard & touchpad mouse in PS2 interface,
light gray
LCD1U15-09b-t
Price:$966
1U Rack-mount 15" LCD Monitor Keyboard Drawer with keyboard & trackball mouse in PS2 interface, black
LCD1U15-09g-t
Price:$966
1U Rack-mount 15" LCD Monitor Keyboard Drawer with keyboard & trackball mouse in PS2 interface, light gray