---
ATX Switching Power Supply for 2U IPC with 460W Output (EPS 12V)
---

Click on photo for enlarged view
AC Input:


VOLTAGE: 90~132 or 180~264V, (115/230 auto)
FREQUENCY: 47/63Hz
INPUT CURRENT: 8A/4A For 115/230VAC
INRUSH CURRENT: 60A/80A MAX FOR 115/230
Features
TEMPERATURE RANGE: Operation 0℃~50℃
HOLD UP TIME: 16ms at maximum load & normal input voltage
EFFICIENCY: 70% TYPICAL(Normal Line)
ATX 12V / EPS 12V
POWER GOOD SIGNAL: Should be asserted high to indicate that+5VDC and +3.3VDC output are above the low voltage thresholds. Compatible signal out with 100ms to 500ms.
OVER POWER PROTECTION:The power supply shall shout down output power exceeds 130% to 160%
OVER VOLTAGE PROTECTION: Standard on +5.0V, set at 6.25VDC ± 0.75VDC
SHORT CIRCUIT PROTECTION: A short circuit placed between the DC return and the output shall cause no damage and the power supply shall shutdown.
EMI: FCC part 15, subpart B, Class B, EN55022 CISPR22 Class B.
AGENCY APPROVALS: UL60950, CAN/CSA22.2 No.60950, TUV(IEC60950)
MTBF OF POWER SUPPLY ELECTRONNIS: 100,000 hours at 25℃. LIFE EXPCTANCY OF FAN 40,000 hours at 40℃
COOLING: By forced air 2x60mm Fan
DIMENSION: D200 X W100 X H70mm
DC Output
OUTPUT
VOLTAGE
OUTPUT CURRENT
REGULATION
OUTPUT
MIN(A)
MAX(A)
LOAD
LINE
RIPPLE & NOISE
MAX.[P-P]
+5V

3
40
±5%
±1%
50mV
+12V

2

24
±5%
±1%
120mV
-5V

0.1
0.3
±10%
±1%
150mV
-12V

0.1
0.8
±10%
±1%
150mV
+3.3V

1
20
±5%
±1%
50mV
+5VSB

0.1
2
±5%
±1%
50mV
* The combined output power +5V&+3.3V shall not exceed 200W.
* The total power shall not exceed 460W.
Connectors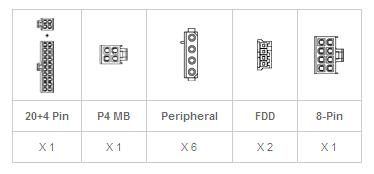 For more information, please visit our company web site at
https://www.rackmountmart.com/



Prices and availability subject to change without notice. Product images may be generic and may not reflect actual item purchased. Synergy Global Technology Inc is not responsible for any typographical errors. Specifications subject to change without notice. Legal.



Copyright 2002-2021 SYNERGY GLOBAL TECHNOLOGY INC. All rights reserved.